Pickup units suitable for
potatoes
onions
carrots
chicory
grain
all other granular products, provided that they do not stick
Standard with
energy chains
energy chains, mounted directly on the machine, replace the previous antenna that could be troublesome when emptying small cells.
hydraulic chassis
for easy height-adjustment
snout
The specially shaped snout makes shure that the tire stays on track. Because of that the lifetime of the tire is enormously extended.
Specifications
| | | | | | |
| --- | --- | --- | --- | --- | --- |
|  type |   | T40L | T60L | T60S | T100 |
|  capacity up to (tons/hr) |   |  50 |  80 |  80 | 130 |
|  width pickup belt |   |  400 |  550 |  550 | 750 |
|  width telescope belt |   |  450 |  600 |  600 | 850 |
|  operating range ( m²) | |  130 |  170 |  250 |   |
|  length pickup truck | B |  2870 |  3300 |  3390 | 4400 |
|  telescope retracted | C |  3800 |  4200 |  4080 | 5500 |
|  telescope extracted |   |  6650 |  7480 |  9260 | 9100 |
|  extendable length |   |  2850 |  3280 |  5180 | 3600 |
|  max. machine height | D |  1320 |  1500 |  1500 | 1800 |
|  max. height telescope | E |  1130 |  1110 |  1110 | 1200 |
|  max. width | F |  957 |  1080 |  1080 | 1690 |
|  belt speed pickup (m/s) |   |  0,84 |  0,56 |  0,56 | 0,77 |
|  belt speed telescope (m/s) |   |  1,0 |  1,0 |  1,0 | 1,0 |
|  drive vehicel (kW) |   |  2×0,55 |  2×1,1 |  2×1,1 | 2×2,2 |
|  drive pickup belt (kW) |   |  0,75 |  1,5 |  1,5 | 2,2 |
|  drive telescope belt (kW) |   |  1,5 | 2,2 |  2,2 | 3 |
|  weight pickup belt(kg) |   | 450 | 750 | 760 |   |
|  weight telescope belt (kg) |   | 415 | 570 | 1050 |   |
All measurements in mm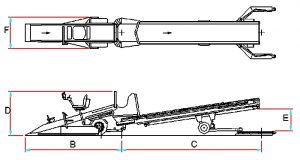 Options
moveable shields
no more problems with thresholds and uneven floors
automatic stop switch
Both belts will be deactivated when the discharge floots, but is possible to drive
Special designs
| | | | |
| --- | --- | --- | --- |
|  options | T40L | T60L | T60S |
| moveable side shields | – | v | standaard |
| limit switch | v | v | v |
| remote control | v | v | v |
| wireless remote control | v | v | v |
| two speed drum motor mp | v | v | v |
| grain version T60L-T60S | – | v | v |
| T60L force enlarger | – | v | – |
| onions grab (supplied separately) | – | v | v |
| onions grab mounted on T60L – T60S | – | v | v |
| scraper pickup belt T40L | v | – | – |
| scraper pickup belt T60L – T60S | – | v | v |
| scraper telescopebelt T40L | v | – | – |
| scraper telescopebelt T60L – T60S | – | v | v |