Description Volume measuring system (VMS3000)
The first volume measuring system with a 99,5% accuracy. Many companies are looking for a reliable system for measuring volume flow of bulk products like peat, compost, soil, rubble, sand etc. Not all the products are sold by weight. The VMS3000 of Jansen&Heuning makes clever use of high quality electronics and vision techniques.
How does the machine work?
A laser beam is projected at an angle on the product profile on the belt and a special camera reads this projection 50 times per second. The resolution is better than 500 x 500 pixels. In other words: 12,5 Mb of information is processed each second. For this purpose the latest electronics is used.
The area of the product cross section is calculated and in combination with the measured belt speed, the volume and the capacity can be determined. These data are processed in a PC with an USB-port. We supply the required software. As an option we deliver an English software protocol, which allows the PLC to perform the control and read-out functions completely or partially by itself.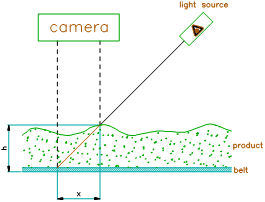 The results
Taking a large number of measurements on an equally large number of positions allows the system to achieve an overall accuracy of better than ± 0,5%. The following example illustrates this:
| | |
| --- | --- |
| Input data | Height measuring on every |
| Belt speed 1 m/s | 2 cm belt length |
| Belt width 1000 mm | 2 mm belt width |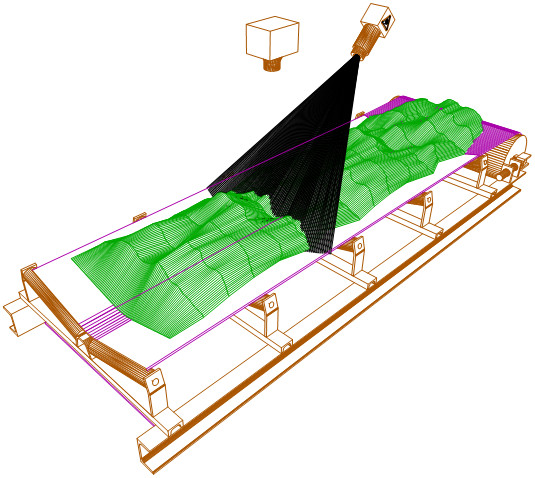 Up to now various volume measurement systems have been delivered and are functioning to the complete satisfaction of our customers. We have gained valuable experience in the field of compost, peat, salt, sand, gravel and cover soil.
Options
Ask Jansen&Heuning for more information if you wish to use the VMS3000 in the following situations:
control per batch and delivery by volume
continuous measurement of bulk density
read out via a 4-20 mA analogue portPotential free contacts
data file display for your data processing
defining of correction factors according to DIN and CEN for the compost/peat industry
for all other questions that haven't been addressed so far, contact Jansen & Heuning and we will help you find the answers
Volume measurement systems can be mounted on every belt conveyor you already have. Should you need a new belt conveyor, we can provide you with one.
Do you have a question about Volume measuring system (VMS3000)?