Phase 1
Production of paddle mixers at Jansen&Heuning. These JHMX10000 mixers can each mix 45 tons per hour, and have each a net capacity of 10.000 dm³. The power is 110 kW.
Phase 2
Close to Rihyad (Saudi Arabia) a feed mill is being built that will feed 70.000 cows every day. Jansen&Heuning supplied all elevators, chain conveyors, screw conveyors and paddle mixers. For Jansen&Heuning this is the largest project outside the European Union so far. The factory will be put into operation at the end of this year.
On the photo you see the two mixers at the bottom left. On the right the elevators.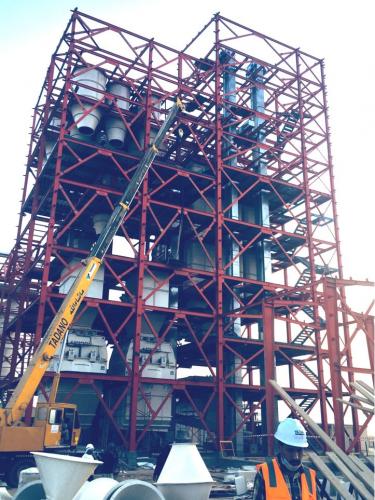 Phase 3
The project has been completed. Colleague Jur Lommerts recently went to Saudi Arabia to view the built feed mill, that feeds 70.000 cows every day. On the picture you can see the two paddle mixers, dosing auger (2 pictures), elevator heads, discharge screw drive side and the new feed mill as a whole.