Description Roller sorter
Sorting by rolls! With high capacity ànd accuracy sorting of potatoes and onions in two fractions is a simple job with a roller sorter.
Taking out the big potatoes for fries or the small parisien potatoes is a simple job for this machine. Its capacity suits the average intake-line at ease.
During the busy harvest season, this machine has its full capacity and will not be the bottle neck in your production process, but will accomplish the best financial benefits from your potatoes.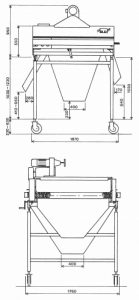 The accuracy of this type of sorting is comparable with a normal flat screen sorting machine.
Purpose
Separation of all (agricultural) bulb products in two fractions with high capacity.
Options
sorting dimension stepless adjustable between 28 and 60 mm
adjustment of inclination angle
stepless speed adjustment
capacity depending on the product till approx. 50 tons/hour
Process
user friendly (no shocks)
low noise
evenly and quietly working machine
Technical data
stable frame from bended sheets
three cleaning rollers and seven sorting rollers
effective and simple cleaning mechanism for the rollers
working width 1,400 mm
rollers constructed of a steel shaft with rubber disks; the rollers are on two sides in bearings with lifetime grease
drive with chain and sprockets and 2.2 kW speed variator
hopper provided with rubber
support legs with hopper for collecting the small particles
Do you have a question about Roller sorter?